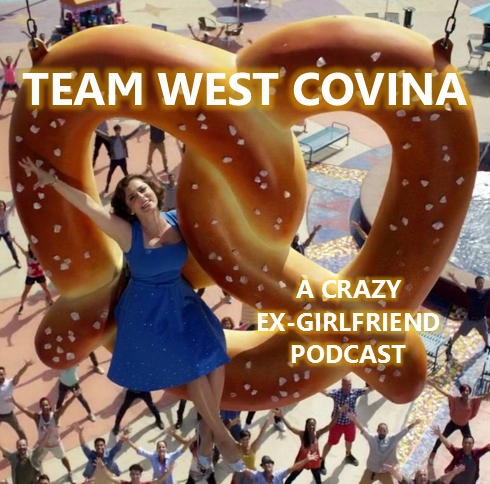 Team West Covina: A Crazy Ex-Girlfriend Podcast
#0 - Intro: CXG 100th Song Singalong & Visiting West Covina
**SPOILERS** possible from all CXG episodes that aired up to this point.
- Discusses the aim of the podcast and the different segments that will be featured each episode.
- Paisley's first impressions of Crazy Ex-Girlfriend and how she got introduced to it.
- Why Paisley decided to try podcasting about CXG.
- Why it's called Team West Covina.
- Stories about visiting West Covina & L.A. Crazy Ex-Girlfriend film locations with fellow fans. 
- Stories from the Crazy Ex-Girlfriend 100th Song Singalong at the Vulture Festival in L.A. (Sunday, November 19, 2017), where the cast performed live.
Links to the creative works of Crazy Ex-Girlfriend fans mentioned in this episode:
Vince's artwork (including "Craze of Thrones" - a CXG/Game of Thrones parody and "Let's Generalize About Men" album cover):
http://instagram.com/brushpenroulette 
http://vincentslee.com
Harrison's Bagels After Midnight YouTube channel:
http://youtube.com/bagelsaftermidnight  
Lisa's Princess Blog & books:
http://facebook.com/lisadawnbooks
Team West Covina social media:
http://twitter.com/teamwestcovina
http://facebook.com/teamwestcovina
http://instagram.com/teamwestcovina

Are you a Good Person? Donate to Team West Covina's Crowdfunding to help recoup the costs of a podcast! 
https://patron.podbean.com/teamwestcovina
Aww, thank you!